If you are interested in book illustration or illuminated manuscripts, one or more of these novels might be to your liking.
Gould's Book of Fish: A Novel in Twelve Fish
by Richard Flanagan
"Billy Gould was a forger and thief sentenced to life imprisonment in a penal colony in Van Diemen's Land—now Tasmania. After six months he escaped and boarded a whaler for the Americas, but before long his adventures landed him back in prison. The prison doctor Lempriere utilizes Gould's painting talents to create an illustrated taxonomy of the country's exotic sea creatures, which Lempriere madly believes will assure his place in history and the Royal Society. Lost and re-created, destroyed and hidden, Gould's book finally resurfaces in the present day littered with scrawls recording his unutterably strange life—part freewheeling picaresque, part tragicomedy—and that of his country, a penal colony, settlement, and magical space populated by generals, visionaries, and madmen. Gould's Book of Fish is a tour de force that questions the reliability of history and science, and the substance of artistic creation."
– Amazon.com
---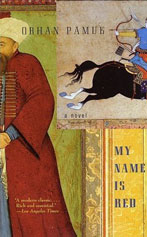 My Name is Red
by Orhan Pamuk
"When the Sultan commissions a great book to celebrate his royal self and his extensive dominion, he directs Enishte Effendi to assemble a cadre of the most acclaimed artists in the land. Their task: to illuminate the work in the European style. But because figurative art can be deemed an affront to Islam, this commission is a dangerous proposition indeed, and no one in the elite circle can know the full scope or nature of the project.
Panic erupts when one of the chosen miniaturists disappears, and the Sultan demands answers within three days. The only clue to the mystery—or crime?—lies in the half-finished illuminations themselves. Has an avenging angel discovered the blasphemous work? Or is a jealous contender for the hand of Enishte's ravishing daughter, the incomparable Shekure, somehow to blame?"
– RandomHouse.com
---
People of the Book
by Geraldine Brooks
"In 1996, Hanna Heath, an Australian rare-book expert, is offered the job of a lifetime: analysis and conservation of the famed Sarajevo Haggadah, which has been rescued from Serb shelling during the Bosnian war. Priceless and beautiful, the book is one of the earliest Jewish volumes ever to be illuminated with images. When Hanna, a caustic loner with a passion for her work, discovers a series of tiny artifacts in its ancient binding—an insect wing fragment, wine stains, salt crystals, a white hair—she begins to unlock the book's mysteries. The reader is ushered into an exquisitely detailed and atmospheric past, tracing the book's journey from its salvation back to its creation."
– Penguin.com